"Drawings of eyelevel and interior views…tend to show an environment with a warmth, subtlety, and humanity not present in model photographs or computer-generated images." Paul Stevenson Oles, AIA
Today, architects and planners frequently use volumetric computer modeling from the outset as an integrated design tool. Visualization firms like NeoScape, Tangram 3DS, TiltPixel and others can use these models to create incredible photo-real renderings, which have broad appeal. At Form + Place, in addition to using these tools, we believe that hand drawing plays an integral role in the visioning process.
A while back when I was studying architecture at RISD, I helped teach the Perspective Drawing class. This was before computers became ubiquitous in the architectural design process. Creating "3D constructed perspectives" of projects was a matter of first creating plans, sections and elevations of the building, and then, painstakingly creating the rendering through a process of establishing a view point, a horizon line, a picture plane and then projecting the image manually onto the picture plain with a very long ruler. It was time consuming and if you messed up… there was no easy way of editing the rendering in process. While computers have given us a new range of efficient visualization tools, we have found that the drawing process is still quite valuable both for evolving the design and creating final presentation renderings that convey a narrative that more closely reflects our clients' goals and values. They invite the client to participate in the process, rather than suggesting that a design has been finalized.
As plan and program concepts for a project evolve, we simultaneously model the most basic massing characteristics of the buildings and public realm (usually in Google Sketch-Up) to create an approach to architectural style and placemaking. In an iterative process between sketching and computer modeling, the visual characteristics of a project emerge. In the world of private commercial development our clients need to visualize the project early-on in the process to consider how they might begin to discuss it in the community and with potential tenants and partners. Sometimes, like on the Dascomb Road Project, an interim stage of mixing hand-drawn vignettes with computer model exports allows for an efficient, affordable way of testing the design in public, while presenting a project that is clearly still in process as the client solicits community input.
When Form + Place created the public realm retail concept for MGM Springfield, there were a series of existing buildings on the site that could not be removed and would need to be integrated into the design of the future mixed-use gaming and entertainment venue. One of these buildings was the existing armory, the rear portion of which was damaged by the tornado of 2011, and subsequently demolished. The front castle-like façade of the armory, however, is somewhat magical in its fanciful architecture. Creating an image that cast the building as the backdrop to a concert stage in an open-air setting was key to MGM visualizing the casino and entertainment uses engaging the surrounding streets, and creating a new neighborhood, rather than an inward-looking gaming destination.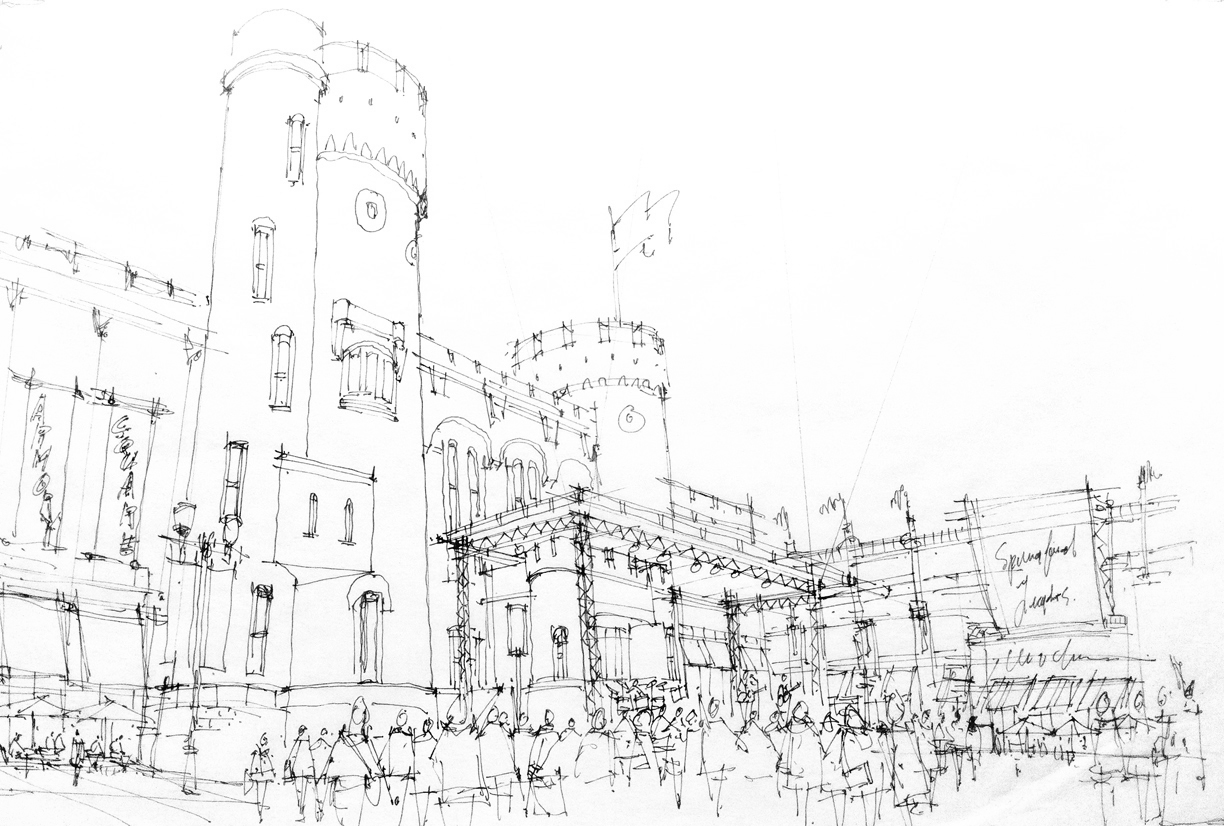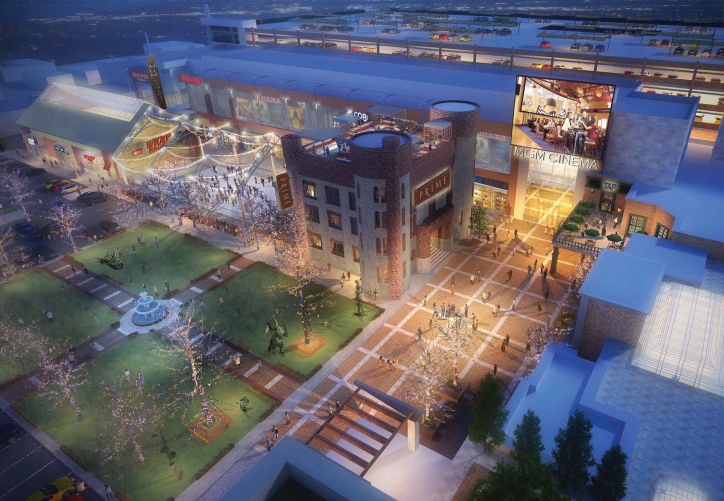 The Winthrop Center Business District master plan involved another type of visioning exercise that called for a softer approach to image making and urban visioning. While the MGM exercise was used as a quick spark to catalyze a new development model for a seasoned commercial entertainment company, the images we generated for Winthrop were intended for the general public, and were used to convey the variety of opportunities that were possible in the Center Business District. To that end, the more accessible approach of free-hand renderings, occasionally complimented by shots of a computer model, was a method that helped bring the community into the dialogue, allowing them to contribute to the process of early idea generation about the future of their city.
In the end, whether it's a hand-drawn sketch merged with a digital export that is then augmented in Photoshop, or an ink and marker vignette sketched over a photo, we are committed to the process of story-telling and communicating ideas. We've found that our process is most successful when our clients are engaged early on, often with the aid of hand drawing, which in turn fosters a mutual interest in seeing our projects brought to life.